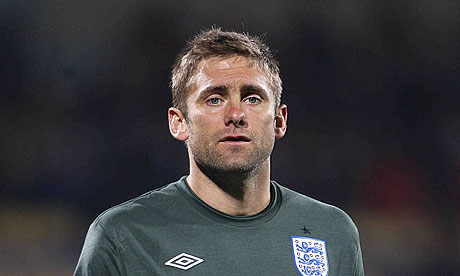 June 7
Arrived in South Africa. So excited. No idea if I will be playing against USA, but am ready to go if selected. Team spirit is high - energy, confidence, commitment, passion. Can't wait to show the rest of the world - this is OUR game. Leds (
editor - Ledley King
) says he is feeling fit and healthy.
June 8
Training. Felt sharp. Handling was clean, footwork quick. It's cold here. Jamo (
ed - David James
) says it's because it's winter in the southern hemisphere. The lads had a good laugh at that one.
June 9
Training. Again, felt great. Made a good save from Lamps (
ed - Frank Lampard
) and the gaffer made eye contact with me. I think he smiled. I think I'm starting against USA.
June 10
More training. Missing the family. Spent a lot of time on the phone with the missus. Will need to top off her Virgin minutes. Saw some wild elephants on the road to Rustenburg. Jamo said some of them can live to be 60 years old. That guy has us laughing all the time!
June 11
Thought the gaffer might tell us who's starting, but he didn't. Jamo said we should all mentally prepare as if we're going to play. Have to try to get to sleep early. When you next hear from me, I will have made my World Cup debut. COME ON ENGLAND!!
June 12
I am so, so sorry.
June 13
Time to pick myself up, dust myself off, and get on with it. Jamo said he knew exactly how I felt. Harty (
ed - Joe Hart
) said he hopes he never does anything like that. Stevie (
ed - Steven Gerrard
) joked around, pretending to be really mad. Clem (
ed - Ray Clemence
) said the important thing is to learn from it. I told him I'd never let England down again. He said I should probably just worry about West Ham from now on.