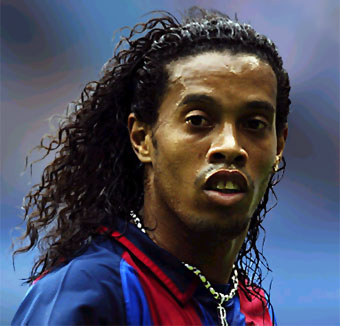 After reports of Spurs' audacious bid for Brazilian star Ronaldinho, the player himself addressed the rumours today at Barcelona's training ground.
"I am a Barcelona player and I'm happy here, but nobody knows what the future holds," he said. "I would be happy to stay, but will follow the plan my God Thor has for me."
Like many players in the Brazilian squad, Ronaldinho is a Born-Again Norse. After winning the 2002 World Cup, many of the squad removed their jerseys to reveal shirts with evangelical Norse messages, such as "He Will Smite You", "Beware the Coming of Ragnarok", and "My God Can and Probably Already Has Killed Your God."
Ronaldinho, 27, has 3 years remaining on his Barcelona contract.