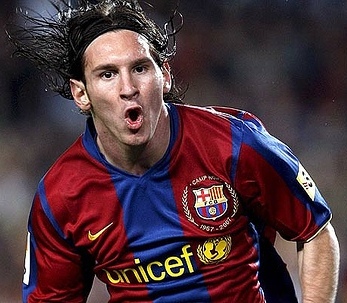 Arsenal came a cropper in the second leg of their Champions League quarterfinal tie with Barcelona, felled by four goals from plucky youngster Lionel Messi, a 22-year-old striker from Argentina. The spirited little fireplug, undaunted by being the shortest player on the pitch and maybe in the world, managed to navigate his way around his older and larger opponents, much to the delight of the Catalan crowd, who have taken the tenacious underdog to their hearts.
While Arsenal are left licking their wounds after another Champions League disappointment, the football world is slowly starting to take notice of the promising performances of this young hopeful, dubbed by some the "New Saviola." But he's not letting it go to his head.
"I just try to do my best and score three or four goals every game, leaving despairing defenders trailing helplessly in my wake, cursing their fate and perhaps regretting their decision to play football in the first place," Messi said. "I just try to do my best."
Even Barcelona manager Pep Guardiola has been impressed by the brave urchin's recent performances. Said Pep, "He's beginning to make it difficult to leave him off the team sheet."
Barca next face Italian champions Inter and taciturn manager Jose Mourinho in the semifinals.